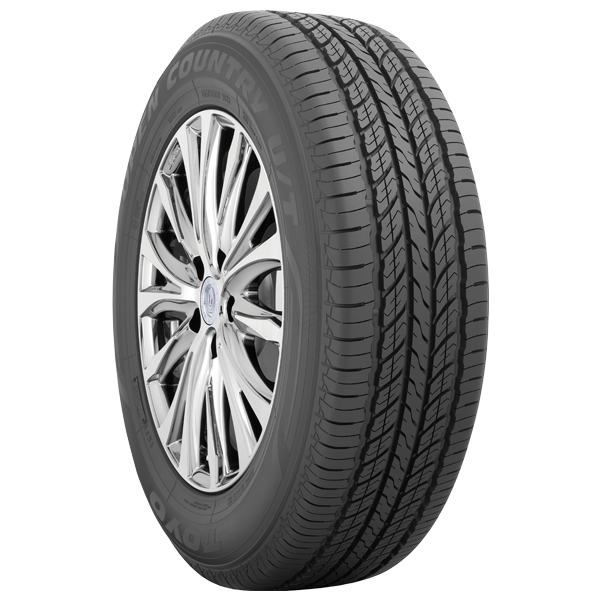 Open Country U/T
De Open Country U/T werd ontwikkeld voor eigenaars van een breed scala van moderne luxe Pick-ups en SUVs. De band word gekenmerkt door kwaliteiten als een laag geluidsniveau en hoog rijcomfort, goede handling en rijstabiliteit en een laag brandstofverbruik in stedelijk gebruik.
Met zijn puur functioneel loopvlak ontwerp en de speciale silica tread compound, heeft de Open Country U/T zijn ontwikkelingsdoel bereikt, bestaand uit geluidsarm profiel, verbeterd brandstofverbruik, uitstekende handling en remprestaties op zowel nat als droog wegdek.
Features and benefits
Five Variable Pitch Pattern
Five Variable Pitch pattern - Pattern noise reduction
New Tread Compound
Increased Silica and new Low Rolling Resistance Grip Polymer improves wet grip with reduced fuel consumption Active Polymer, with improved filler dispersion provide good balance of wear life & low rolling resistance
Optimised pattern
Low rolling resistance Increased mileage Improved wet and dry braking
Silent Wall
Pattern noise reduction
Bovenstaand etiket geeft de volledige reeks waarden voor dit product weer. Voor specifieke waarden per maat, zie de individuele lijsten in de specificaties hieronder.

Specifications
De EPREL-kolom verwijst naar de Europese Productdatabank voor energie-etikettering voor de vermelde productspecificatie.