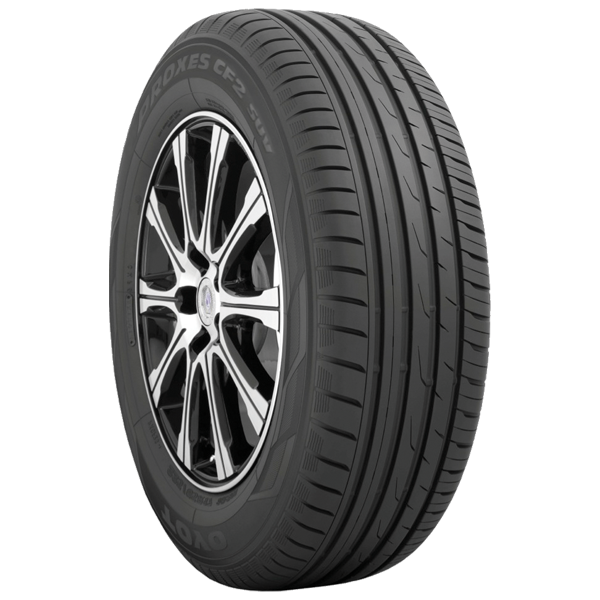 Proxes CF2 SUV
NIEUW De Proxes CF2 SUV is ontwikkeld voor de beste rijeigenschappen voor kleine crossovers en compacte SUV's.
Met een nieuw Silica tred compound, biedt de Proxes CF2 SUV een korte remweg op nat wegdek en een economischer verbruik!
De lichtgewicht constructie en het nieuwe compound zorgen voor een langere levensduur, de Proxes CF2 SUV de slimme keus voor SUV's
Features and benefits
Circumferential Grooves
4 Wide Grooves - Good aquaplaning resistance
Rib Pattern
Rib Pattern - High stability - Excellent Braking - Low Noise
Wide Tread
Wide Tread - High Stabilty - Good Tread Wear
Tread Compound
- Wear life Polymer (Green line) - Super Active Polymer (Blue line) - Ultra Grip Polymer (Red line) Good wet performance and wear life with low rolling resistance
Jointless Cap Ply
Jointless Cap Ply - High Speed Durability - Precise Uniformity
Bead Filler
High Hardness Bead Filler - Linear Steering Response - Durability
Steel Belts
High Tensile Steel Belts - Excellent Handling - Stabilty - Enhanced Ride Comfort
Bovenstaand etiket geeft de volledige reeks waarden voor dit product weer. Voor specifieke waarden per maat, zie de individuele lijsten in de specificaties hieronder.

Specifications
De EPREL-kolom verwijst naar de Europese Productdatabank voor energie-etikettering voor de vermelde productspecificatie.